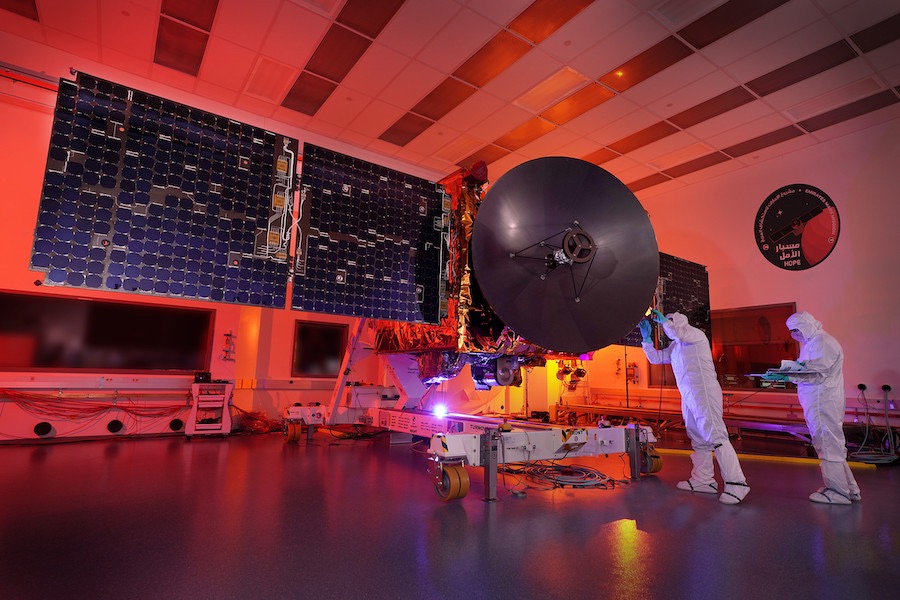 The United Arab Emirates became the fifth nation or space agency to put a spacecraft into orbit around Mars on Tuesday with the arrival of Hope, a probe built in partnership with U.S. scientists to obtain a unique global perspective on the Red Planet's weather and climate.
The Hope spacecraft fired a cluster of rocket jets to maneuver into orbit beginning at 10:30 a.m. EST (1530 GMT) Tuesday, while tense engineers gathered at the mission control center in Dubai monitored telemetry streaming back from the probe.
It took about 11 minutes for radio signals traveling at the speed of light to journey the nearly 119 million miles (191 million kilometers) from Mars to Earth. The time delay meant the planned 27-minute engine burn was nearly halfway over by the time engineers confirmed it started.
Data streaming down from the Hope spacecraft indicated the probe successfully entered orbit around Mars around 11 a.m. EST (1600 GMT).
Omran Sharaf, project director for the Emirates Mars Mission, announced the completion of the successful Mars Orbit Insertion maneuver, prompting applause and fist bumps in the control center at the Mohammed Bin Rashid Space Center in Dubai. The famous super-tall Burj Khalifa tower lit up with a special display celebrating the achievement, the first time a spacecraft from the Arab world has reached another planet.
Additional Links to News Stories: