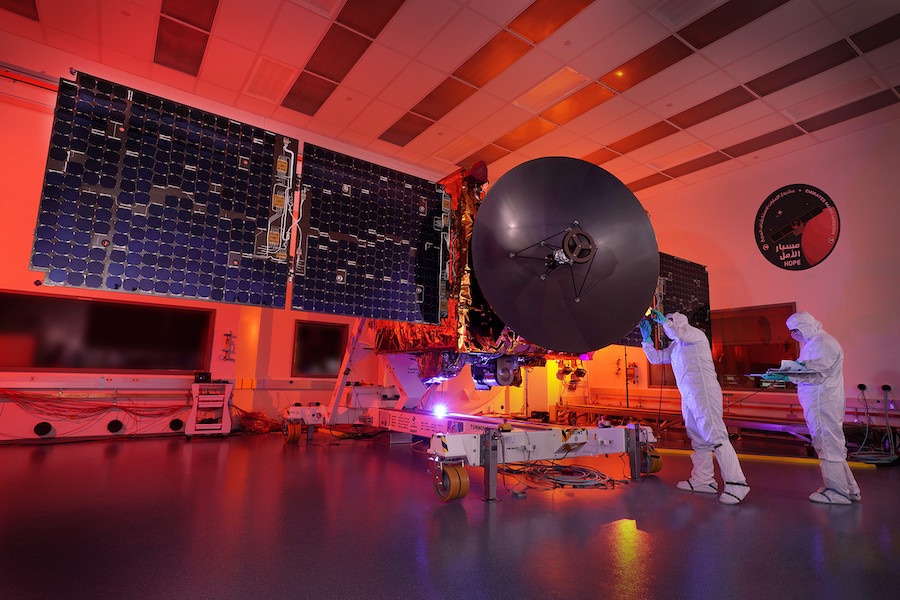 The UAE's Hope mission is set for liftoff this week from Japan, taking aim on Mars with a package of scientific instruments designed to probe weather and climate change on the Red Planet.
About the size of a Mini Cooper, the nearly 3,000-pound (1,350-kilogram) spacecraft is set to embark on a seven-month journey to Mars. If it reaches its destination, the mission will become the first from the Arab world to enter orbit around another planet.
"The identity of the mission is not just about the UAE, it's also for the Arab world," said Omran Sharaf, project director for the Emirates Mars Mission from the Mohammed Bin Rashid Space Center in Dubai. "It's supposed to inspire the Arab youth, and send a message of hope to them."
The UAE government first announced plans for the Emirates Mars Mission –also known as Hope, or Al Amal — in July 2014. The government-funded project was designed, built, tested and readied for launch in less than six years, and on a budget of roughly $200 million, a fraction of the cost of NASA's Mars orbiters.
The spacecraft and its three scientific payloads were developed as a collaborative project between scientists at the Mohammed Bin Rashid Space Center, the UAE Space Agency, and three universities in the United States.
The spacecraft was assembled by Emirati and U.S. engineers at the Laboratory for Atmospheric and Space Physics at the University of Colorado at Boulder. Scientists from Arizona State University and the University of California, Berkeley, also contributed to developing the mission's scientific instruments.
Courtesy of SpaceFlightNow Stephan Clark, The Complete Story