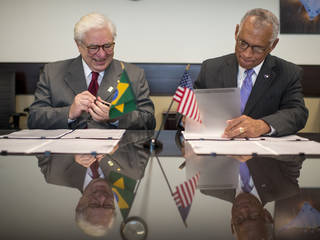 NASA Administrator Charles Bolden and Brazilian Space Agency (AEB) President José Raimundo Braga Coelho have signed agreements to further research into heliophysics and space weather and to enhance global climate study and educational opportunities.
"I am delighted to expand our relationship with our long time exploration partner Brazil through these agreements," Bolden said. "This partnership encompasses critical work not only to understand our planet, but also to help develop the leaders of tomorrow, and we look forward to many positive outcomes."
Building on the Framework Agreement between the Government of the United States of America and the Government of the Federative Republic of Brazil on Cooperation in the Peaceful Uses of Outer Space, the two space agencies finalized an implementing arrangement that will enable Brazil to acquire and process space weather data from NASA's Van Allen Probes mission. In addition, the agreement enables Brazilian participation in missions studying the sun's impacts on Earth's space environment such as the Magnetospheric Multiscale mission.
Brazil also will now be the newest partner in the Global Learning and Observations to Benefit the Environment (GLOBE) program. The environmental science and education program brings together teachers, students and scientists to use Earth and space-based observations to study the global environment and promotes understanding of our planet as a system.
NASA and AEB also will partner to increase opportunities for Brazilian undergraduate and graduate students to participate in an internship at a NASA center through the NASA International Internship Program. The new agreement, signed separately by NASA and AEB on June 18 will provide a unique educational experience for Brazilian students while providing U.S. students an opportunity to work on international teams.