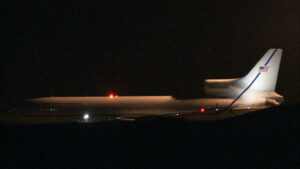 After successfully launching Thursday night, NASA's Ionospheric Connection Explorer (ICON) spacecraft is in orbit for a first-of-its-kind mission to study a region of space where changes can disrupt communications and satellite orbits, and even increase radiation risks to astronauts.
A Northrop Grumman Stargazer L-1011 aircraft took off at 8:31 p.m. EDT from Cape Canaveral Air Force Station in Florida carrying ICON, on a Northrop Grumman Pegasus XL rocket, to launch altitude of about 39,000 feet. The first launch opportunity around 9:30 was skipped due to communication issues between the ground team at Cape Canaveral and the aircraft. On the second attempt, the aircraft crew released its payload at 9:59 p.m. EDT and automated systems on the Pegasus rocket launched ICON, a spacecraft roughly the size of a refrigerator, into space.
The spacecraft's solar panels successfully deployed, indicating it has power with all systems operating. After an approximately month-long commissioning period, ICON will begin sending back its first science data in November.
ICON will study changes in a region of the upper atmosphere called the ionosphere. In addition to interfering with communications signals, space weather in the ionosphere can also prematurely decay spacecraft orbits and expose astronauts to radiation-borne health risks. Historically, this critical region of near-Earth space has been difficult to observe. Spacecraft can't travel through the low parts of the ionosphere and balloons can't travel high enough.
"ICON has an important job to do – to help us understand the dynamic space environment near our home," said Nicola Fox, director for heliophysics at NASA Headquarters in Washington. "ICON will be the first mission to simultaneously track what's happening in Earth's upper atmosphere and in space to see how the two interact, causing the kind of changes that can disrupt our communications systems."
Read the rest of this NASA press release